Marijuana has been legal in several states now for a few years now (any tweets or images appearing before 2016 must've happened in Amsterdam) and more than a few people have taken the opportunity to dabble in getting high.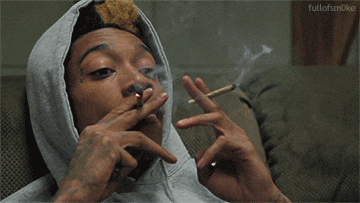 There are those who consume so much THC they order six combo meals from Taco Bell and binge watch a copious amount of TLC. Then there are the Cheech & Chong-level users. Folks who start wondering what shoes for your hands would look like without realizing that would basically be gloves. These are those people.
1. This guy who saw a very good boy.
2. This dude who never heard his alarm.
3. This dog really feeling those edibles kick in.
Me: this edible ain't shit
*one hour later* pic.twitter.com/lP5i7sB2dL

— n (@madsoIar) April 19, 2017
4. This David Attenborough Jr. nature documentarian.
5. This person facing a horrible dilemma.
You May Also Like
— Ruin My Week (@RuinedWeek) December 12, 2018
6. This guy making sure his water had enough juice.
7. This guy who almost lost his noodles.
8. This trapstar who trapped himself.
9. This dude seeing nugs in the wild.
10. This guy with the most polite dog.
11. This fella getting disrespected by insects.
12. This girl who's definitely not high.
13.This woman in a fishy situation.
14. Christine with the important list.
15. This girl making friendly conversation.
You May Also Like
This.👇👇👇https://t.co/XEfCVpbd4T

— Ruin My Week (@RuinedWeek) December 17, 2018
16. This person fumbling for the remote.
17. This pizza engineer.
18. This ranch-based artist.
19. This guy who needs to book a different flight.

Instagram: @Toptree