Lady Gaga is engaged to Christian Carino no more. A source told People, "It just didn't work out. Relationships sometimes end." The source added that the couple actually split "a bit ago," and that "there is no dramatic story."
@ladygaga looks amazing at the #grammys but where is her engagement ring? pic.twitter.com/5gaQ3zpNxE

— Emily Tressa (@Emily_tressa) February 11, 2019
The news isn't exactly shocking to fans of Gaga's, who noticed something was up when Gaga was spotted without her engagement ring at the 2019 Grammys on February 10. Gaga also neglected to thank Carino in her speech when she accepted the best pop duo or group performance award for her song "Shallow."
Where's her engagement ring????

— Lisa (@aerolisa1) February 11, 2019
Wait for real lady Gaga and Christian Carino aren't following each other and she wasn't wearing her engagement ring

— 🙂 (@1_adygaga) February 11, 2019
And then, on Valentine's Day, when Gaga didn't post a pic of herself and Carino, but instead Instagrammed a shot of a new tattoo of a rose she'd gotten on her back, inspired by A Star Is Born.
So you know what that means, right? Now Lady Gaga is FREE TO DATE BRADLEY COOPER! And that's just what the internet is thinking. As soon as the split was confirmed, people started to ship the two stars.
Lady Gaga split from her fiancé because her and Bradley cooper are in love #astarisborn pic.twitter.com/E1XO70KGEJ

— tdosh22 (@tdosh22) February 19, 2019
I seriously hope Lady Gaga and Bradley Cooper are having an affair, not kidding.

— SamSimon (@SamanthaSimonx3) February 19, 2019
The chemistry between them is undeniable.
All I want is a man that will look at me the way Lady Gaga looks at Bradley Cooper… pic.twitter.com/sNKD6z9Ep8

— Nikolay (@itsnickolev) February 19, 2019
capture this beautiful and lovely moment between lady gaga & bradley cooper. pic.twitter.com/lKWerPx1oS

— ani✯ (@gagaftbullock) February 18, 2019
People are PSYCHED.
lady gaga & bradley cooper couldn't be more sweet and lovely together. I'M IN LOVE pic.twitter.com/38PPl7Ekl7

— ani✯ (@gagaftbullock) February 13, 2019
how are bradley cooper and lady gaga STILL not together pic.twitter.com/jpi6lzktKE

— alina (@mooreschlmt) February 15, 2019
Fans are already calling for them to get married.
Lady Gaga and Bradley Cooper will get married calling it now

— Brielle Biermann (@BrielleZolciak) February 19, 2019
So far, no word from either camp, but maybe if we talk about it enough, we can make it happen? Just by believing? It's worth a shot, anyway.
if you don't think Lady Gaga and Bradley Cooper are in love well grow up

— Emily Whitney (@emilywhitney23) February 20, 2019
But let's also spend a minute remembering Gaga's relationship with Christian Carino. Hopefully the breakup isn't too hard on either one of them, and they'll move on amicably.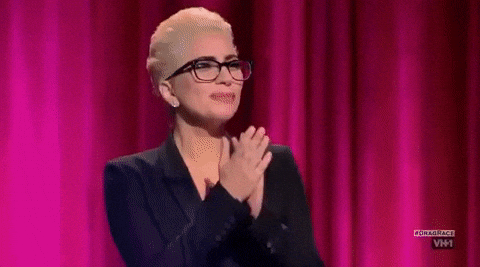 h/t: People and Someecards